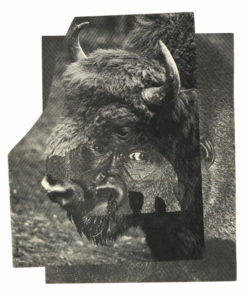 I, DAUGHTER OF KONG
Assembled by Lara Allen for the Lower Manhattan Cultural Council's SwingSpace. 
Exhibiting Artists: Adam J. Ansell, Anna Betbeze, Matt Borruso, R. Crumb, Georganne Deen, Per Frykdahl, Amy Hicks, Cornelia Jensen, Alexis Karl, George Kuchar, Matthew Lusk, Kyp Malone, Jason Mecier, Cynthia Mitchell, Baker Overstreet, Pablo the Chimp (courtesy of Darby Bannard), Duke Riley, Shadow the Cat, Christine Shields, Anjali Sundaram & Jade Townsend.
Soundtrack: Craig Ventresco
I, Daughter of Kong Scent: Alexis Karl
I, Daughter of Kong, Princess of the black jungle
Orphan of the beasts, orphan of the stars
Born motherless into this grey city
I carry blackness silently as my mother carried me.
I call this cold place home; I have no home
I am the eyes who watch as others return to their own
Alone in this asphalt compound of exile and betrayal
Tomb of my father, the last true king.
I, Daughter of Kong, princess and virgin
I turn from pale eyes, wanton and urgent
And the putrid, sweet smell of moths and melted wax
Embalming these puny, peculiar creatures
None can catch me; how I long to be caught!
Stronger than any man, braver and more afraid
My heart is an orchid buzzing with flies
I am the invisible longing t'ward which men collapse in their sleep
I, Daughter of Kong, princess, silent siren
In dreams I call my subjects, too far away to hear
There is no map to my island; no plane or ship can take me there
The red sunset is the kingdom locked inside of me.
---
MOON FEVER WAR SONG
Moon Fever War Song, co-written with Cynthia Mitchell, invokes historical, cultural, and literary references, including E.T. Paull's Woman Forever March and Walt Whitman's Song of Myself.